Webinar | COVID-19 Rapid Response: Updates from Thailand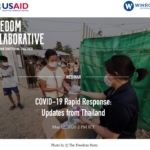 Together with the USAID Asia CTIP project, we continue our COVID-19 rapid response webinar series to discuss challenges, needs, and possible solutions for organizations working with already-vulnerable populations during this time. We also hope these discussions serve as a way for practitioners in the region to share information, advice, and encouragement to others.
Please join us for the next session on Tuesday, May 12th at 2 pm ICT to hear updates on the situation in Thailand, how organizations are responding to the pandemic, and the impact posed by COVID-19 to migrant workers who have remained in the country.
Speakers will include:
Nathalie Hanley, IOM Thailand
Veerawit Tianchainan, The Freedom Story
Harley Hamilton, World Vision Thailand
….and more to be confirmed!
Time: May 12, 2020 02:00 PM in Bangkok