The Mae Chaem Development Model
Solving land right and environmental impacts in Northern Thailand through Sustainable AgricultureBackgroundMae Chaem District, with a population of about 60,000, is a key strategic watershed area in Thailand's Northern Highlands. The District is primarily made up of Mae Chaem National Reserved Forest which is classified as a 1A class watershed, meaning the area is subjected to a […]
Solving land right and environmental impacts in Northern Thailand through Sustainable Agriculture
Background
Mae Chaem District, with a population of about 60,000, is a key strategic watershed area in Thailand's Northern Highlands. The District is primarily made up of Mae Chaem National Reserved Forest1 which is classified as a 1A class watershed2, meaning the area is subjected to a prohibition on any form of settlement or agricultural activity. Currently, about 20% (136,337 acres) of the district's total area has been used for agricultural and residential land.
Corn is the primary crop grown in Mae Chaem, supplemented by a number of leafy greens, potatoes and other vegetables. Illegal logging and foraging within local forests for mushrooms and herbs are also common sources of income. This economic model has fallen under considerable strain lately, as the dependence on corn production, mixed with the local custom of burning corn stocks after harvests are complete, has create massive amounts of smog and haze.
The scale of the burnings is so large that it frequently impacts not only Mae Chaem itself, but also the nearby city of Chiang Mai and other surrounding communities. Haze originating from Mae Chaem and other nearby districts, including neighboring countries, led to a 40% decrease in tourists visiting Chiang Mai Province, significantly impacting the local tourism industry, a major driver of the regional economy.3 Low air quality has also had significant negative impacts of the health of those living in affected areas. The Chiang Mai Public Health Department reported that over 8,000 people in Chiang Mai had health affect by the air pollution caused by forest fires and burning in the region during March 1 and March 11, 2015.4
About 213,624.82 tons of corn stalks are burned openly in Chiang Mai yearly, thereby approximately generating 7.28 tons of particulate matter.5
Over the past 10 years increasing amounts of land in Mae Chaem Forest have been used for agricultural purposes. Between 2009 and 2011, and again in 2014, especially large amounts of land were converted from forest to agricultural land, largely to grow corn. The area used for corn production increased from 34,122 acres in 2009 to 41,698 acres in 2011 and further to 57,281 acres in 2013. The number of corn farmers in 2013 was 8,332, yielding 100,547 tons of corn.
By 2014, the price of maize had fallen. As a result, some farmers turned to alternative crops such as rubber, pumpkins, shallots and cabbage. The area of ​​maize production in the rainy season was reduced to 46,938 acres, yielding 83,103 tons per year. Only 7,427 households, 43.35% of the total households (17,131 households) grew corn in 2014.6
The Mae Chaem Development Project
Since 2007, several community and government meetings held in Chiang Mai and Mae Chaem District have addressed irresponsible agricultural practices. The meetings were called, at least in part, as a result of protests about the haze which occurred in 2013.7 In addition, low profit margins from corn and increasing debt amongst farmers prompted the Ban Doi San Kiang Village Council, within Mae Chaem, to search for alternatives to corn that could be more profitable and environmentally sustainable.
Furthermore, a co-operation committee at the district and provincial levels was formed to discuss air quality issues in Mae Chaem, a process which led to the development of a joint management system. The joint management system entails the updating of GPS databases (scientific information) so up to date data on land use was available and so that this data could be disaggregated, differentiating between land used for farming or for residential uses within the National Forest Reserve. A village council meeting was further organized to discuss land management and resource management and worked to include from participation by all relevant actors.
Shortly following the village council meeting, short term solutions began to be implemented. Boundary fences were erected around forests to prevent illegal logging and corn farmers were encouraged to transition to crops other than corn.8 There are now also plans to support this transition through installing new water sources in unirrigated areas.9 Other short-term mitigation measures which were implemented included feeding 10,000 tonnes of corn husks to cows via fresh or fermented feeds (a USD14,242.42 fermented feed factory was built in Tambon Tha Pha); turning husks into fertilizer; dicing the husks for use in biofuels and energy production; and having schoolchildren make floats and wreaths from the husks.10
To facilitate a longer-term solution, sustained changes to traditional farming practices will need to take root. Water management in Mae Chaem has improved based on the mound, reservoir, and paddy model of water management,11 following the Late King's principle that we must manage rainfall and foster moist forests, which will both preserve water and prevent forest fires. They are able to find other occupations, such as growing other vegetables and fruit like longan, and they can earn money from the compost produced as well. Communities have been enhanced by upstream Corporate Social Responsibility (CSR) partnership activities based on an afforestation plan. Apaichon Vacharasin, a vice president at CP Group, stresses on the need for marketing mechanisms to boost public awareness. Other key CSR partners include Thai Beverage Corporation, Pracharath Chiangmai Social Enterprise and others.12 Dr Somkiat Chaipiboon of Maejo University explains that the development of villages of Ban Doi San Kiang, Ban Mae Pan and Ban Mai Poo Loei in Mae Chaem district now serve as models for how communities can live in harmony with forests.13 The Mae Chaem Model process is illustrated below. The detail is illustrated in the next section.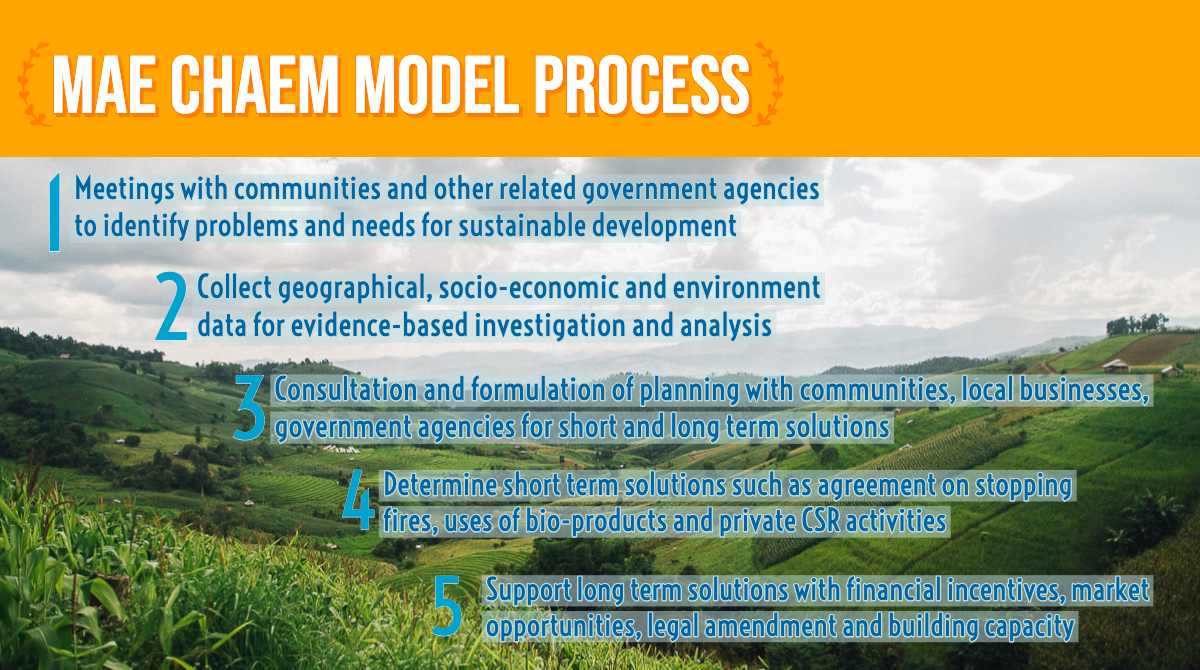 The Mae Chaem Development Project and the SDGs
SDG 1 Target 4: Mae Chaem's district chief Tosapol Pheun-udom said the community agreed to sign an agreement to curb forest fires within three years while stopping land encroachment and reducing the use of chemicals in upstream areas within five years. In return, the community wanted the government to grant people land rights for 84,396 acres in total as they were born on and had lived on these plots.
SDG 2.3: By 2030, double the agricultural productivity and incomes of small-scale food producers, in particular women, indigenous peoples, family farmers, pastoralists and fishers, including through secure and equal access to land, other productive resources and inputs, knowledge, financial services, markets and opportunities for value addition and non-farm employment
Planning for co-management system of natural resources based on crops such as bamboo, career development, local economic development, and support for socially responsible businesses will enhance business systems of Mae Chaem community. A comprehensive business systems will start from watershed measures with support of afforestation plan and income generation such as bamboo planting to settle debt and link to bamboo products (Promotion of knowledge management on processing and link marketing), livestock promotion, support the cow, grass farming supports the technology of agriculture, such as chopping of vegetable waste into energy, fertilizer promotion by community, tourism and tourism activities development, and folk products for extra income.
Thaweesak Khantharat, a strategist with the government's Department of National Parks, said he'd visited Ban Pang Ung in Mae Chaem. Thus, he suggested to develop the villages to become a tourist attraction that can draw more than 30,000 tourists a year because of the climate, natural and scenic view. To fulfill that goal, Mae Chaem need to implement reforestation as a part of scenic view.14
SDG 15.2: By 2020, promote the implementation of sustainable management of all types of forests, halt deforestation, restore degraded forests and substantially increase afforestation and reforestation globally.
Co-management system of natural resources and environment, conservation, restoration, effective encroachment prevention has been developed to increase forest areas by supporting the reforestation, and designating some land use for economic crops that can be used and earn from the wild such as growing coffee, planting bamboo in forest plantation, the mound, reservoir, and paddy model of water management,15 adjust terrace and vegetation for blend soil remediation and retention.16
Related pages:
References
1. "Mae Chaem Forest" is a national forest, according to Ministerial Regulation No. 712 (BE 2517), published in the Gazette, Vol. 91, No. 225, December 29, 1974.
2. According to the cabinet resolution BE 2528 (1985).
3. Waraluck Chaitup. 2017.

Concrete Area-based Development Model towards Sustainable Development Goals by CSOs under the

Thailand-European Union Policy Dialogues Support Facility

. European Union and Community Organizations Development Institute.

4. Nopniwat Krailerg. 2015. Over 8,000 people ill from smoke.

Chiang Mai Mail

, available at

http://www.chiangmai-mail.com/w036/news.shtml

. Accessed in August 2018.

5. Jearwattanakanok Ayuwat. 2014. Agricultural Waste to Energy: Strategy for Smog Reduction In Chiang Mai (Thesis).
6. Somkiat Meetham. 2015.

Forests and Land Rights in Mae Chaem: Problems, Causes, Effects and Solutions

. Accessed in July 2018.

7.

Chularat Saengpassa. The Nation.

District a model for success in beating haze.

Accessed in July 2018.

9.

C.P. Group. 2018.

C.P. Group, co-hosting with partners and the Sub-Committee on accelerating Government Policy Implementation (ROC), pushing "Mae Chaem Model+" to transform Mae Chaem Forestry Town.

Accessed July 2018.

11.

Boonsong Thansrithong

. Echo Community. 2015.

An Introduction to the Kok Nong Na's Water Management Moel: Summary of an article from the Natural Farming Journal, September 2015

.

Accessed in August 2018.

12. C.P.Group. 2018.

CP Group, CPF, partners use "Mae Chaem Model+" to support community forest to rehab the Mae Chaem Watershed in "Saen Kla Dee Community"

. Accessed in July 2018.

16. Waraluck Chaitup. 2017.

Concrete Area-based Development Model towards Sustainable Development Goals by CSOs under the

Thailand-European Union Policy Dialogues Support Facility

. European Union and Community Organizations Development Institute.

Contact us
Thank you for taking the time to get in contact!