Waste Management competition | Envi Mission Year 2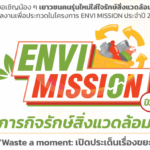 The Faculty of Engineering, Chulalongkorn University, and CU Radio invite students with environmentally-conscious minds to enter the "Envi Mission Year 2" and compete for cash prizes worth 70,000 baht in total.
Held under the "Waste A Moment" concept, this is the second edition of the environment conservation project with the aim to provide a better understanding and promote sustainability in solid waste management among young people across the country.
The project is open to teams of three Mathayom students and two teachers and community leaders who will act as their consultants. Each team must come up with a practical project concerning waste that is constructive and innovative.
The submission deadline is Feb 28. Applications can be made via curadio.chula.ac.th, email prcuradio@gmail.com or by post to CU Radio, 7th floor of Wittaya Pattana Building, Phaya Thai Road, Pathumwan. Bangkok 10330.