UNDP Report Launch | Tolerance but not Inclusion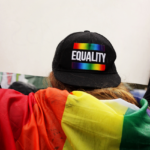 Join us for the launch of the report Tolerance but not inclusion: A national survey on experiences of discrimination and social attitudes towards LGBT people in Thailand, by the United Nations Development Programme (UNDP) in Thailand. The study is the most comprehensive ever conducted examining the experiences of and social attitudes towards LGBT people in the country.
The event will feature presentation of key findings of the study, opening remarks the Director General of the Department of Women's Affairs and Family Development and Renaud Meyer, the Resident Representative of UNDP Thailand, and a panel discussion with other experts.
Date: 2 November 2019, 9.00-12.00 a.m.
Location: Foreign Correspondents' Club of Thailand – FCCT, Maneeya Center 518/5 Ploenchit Road (connected to BTS Skytrain Chidlom Station)