Summer School Researching Land Governance and Land Relations in the Mekong Region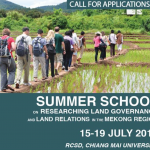 The Regional Center for Social Science and Sustainable Development and the Mekong Land Research Forum will run a week-long intensive summer school on land research in the Mekong Region.
SCHOLARSHIPS are available for participants from Cambodia, Laos, Myanmar and Vietnam, covering travel, accommodation, meals, and course fee support. Participants from Thailand and China will need to fund their own travel and accommodation costs, but all tuition and group meals will be provided without charge.
15-19 JULY 2019 at RCSD, CHIANG MAI UNIVERSITY
TO APPLY CLICK GO TO https://form.jotform.me/70811659795469 (DEADLINE – 17 MAY)