Commoning water(s): resources, services and ecological justice in Asia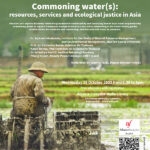 Inclusive and just water security is widely recognized as principal challenge in the era of the Anthropocene. Water insecurity affects the livelihoods of both rural and urban populations in Southeast Asia, and the wider the Global South.
This public event brings together academics and practitioners working on the frontiers of addressing the complex challenges and tensions surrounding water security and ecological justice.
Date: Wednesday 26 October 2022 from 6.30 to 8pm at Alliance Française Media Library