Applications for Youth Climate Leaders Open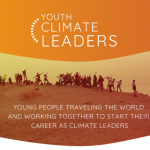 Until April 30th, students and young people starting their careers or going through a career transition can apply for the Youth Climate Leaders (YCL) program.
The program aims to develop a unique experience for participants: one trip around the world to learn more about climate change in theory, understand it in practice, and work on hands-on projects with other young people.
The program will kickoff with a 10-day immersion in Paris scheduled to begin on July 20th.
The YCL team is already mapping partner organizations in Africa, Asia and Latin America to host our participants.
For more details, please visit here