A series of Data Literacy Training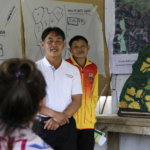 Data literacy is the ability to read, understand, work with, analyze, and argue with data. It is also the ability to derive meaningful information from data. Data literacy is not simply the ability to read text since it requires quantitative and analytical skills (for example: mathematical and statistical) involving reading and understanding data. Hence, with increased data literacy, one will be able to produce more insightful and evidence-based stories.
East-West Management Institute – Open Development Initiative (EWMI-ODI) is an organization that develop open data in Mekong Sub-Region, open program 'A series of Data Literacy Training' that emphasized promoting data literacy skills toward learning the data skills, understanding data, choosing the right data in the world of data, and presenting stories with insight data to the public effectively.
This training aims to improve community potential toward forest governance. We are highly welcome applicants from civil societies, NGOs, local forest communities, and local journalists to attain A series of Data Literacy Training. This training is provided by the project 'Voice for Mekong forests (V4MF)' that has been supported by the European Union.
The applicants need to attend and complete all the programs. ( 3 weeks: 1 week/month)
Week 1 (Module 1 & 2) : 3-7 February 2020
Week 2 (Module 3 & 4) : 9-13 March 2020
Week 2 (Module 5 & 6) : 27 April – 1 May 2020
Data Literacy Training Program:
Module 1: From Evidence to Stories
Module 2: Finding Data, Data Collection & Data Formats
Module 3: Understanding Data
Module 4: Data Visualization
Module 5: Thinking Like a Data Journalist
Module 6: Digital Rights and Data Security
FREE course and allowance supported (including domestic transportation, accommodation, food, etc.) by RECOFTC
Download Application Form for A series of Data Literacy Training and send via e-mail to Ms.Kunsuree Yimsaree (kunsuree.yimsaree@recoftc.org) Tel.092 404 9395 Deadline 10 January 2020 (before twelve midnight)