UNITE 2030's Youth Delegate Program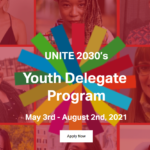 The Youth Delegate Program is a 3-month intensive leadership and action-oriented program that supports youth between the ages of 18 and 30 to develop the leadership skills and competencies required to solve The Global Goals by the year 2030.
UNITE 2030 Youth Delegates Delegates are instrumental in organizing the biggest youth generation in history to make the world a better place. They will act as youth representatives for the UNITE 2030 community, support and connect local grassroots campaigns, amplify youth actions that are creating change, develop tools and programming to support young people everywhere to achieve the Global Goals and accelerate solutions to the SDGs.
Applications for Cohort 4 of the Youth Delegate Program will be open from March 13th – April 9th.