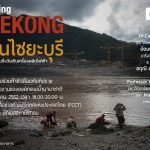 The making of Xayaburi dam from commencement to operations on 29th October 2019, the Xayaburi Hydropower Project on the Mekong in Laos will formally commence operations. As the first dam on the lower Mekong mainstream, this marks a turning point for the Mekong River.
The event will feature the launch of a new report. International Rivers commissioned two independent experts to provide comments on the MRC's review of the Xayaburi redesign, released earlier this year.
The expert commentary examines the legacy of Xayaburi in setting a benchmark for decisions on mainstream dams and highlights the urgent need for a truly regional approach to safeguard the Mekong's future.
Date: 22 October 2019, 6.00-8.00 PM
Location: Foreign Correspondents' Club of Thailand – FCCT, Maneeya Center, BTS Chidlom