Mekong State of Land report first draft released, open for comments until June 30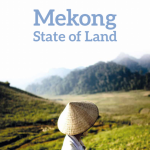 The Mekong State of Land Report, which presents a comprehensive review of land resources, distribution and governance conditions in the Mekong region, was launched yesterday at Second Regional Land Forum. The report has been produced by the Centre for Development and Environment of the University of Bern (CDE), with the support of Mekong Region Land Governance (MRLG) and various authors.
Open Development Mekong has added the report into our online database. Please access the report here
Readers can submit your comments and feedback of the report here until June 30, 2018.