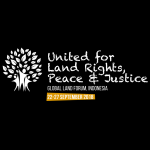 The Global Land Forum (GLF) will convene International Land Coalition (ILC) members, government representatives, and other stakeholders from around the world to advance understanding of the complex and dynamic political, economic, environmental and social linkages between land governance, food security, poverty and democracy. The GLF aims to creates opportunities for participants to learn from, and contribute to, land governance successes and challenges.
The programme is structured to provide opportunities to participants who may not commonly interact to debate, exchange, learn from each other's experiences and successes and build linkages so that new perspectives can emerge. The Forum is also an opportunity for ILC's 206 members to adopt a declaration with common commitments to action during their Assembly of Members.
Following a series of in-depth field visits, the main conference will open on the Indonesian National Peasants' Day, 24th September, with a day focusing on Indonesia and Asia.
dates: 22-27 September 2018
location: Bandung, Jawa Barat, Indonesia
For more information, please visit here