ASEW – ASEAN's Most Comprehensive International Exhibition and Conference on Renewable Energy, Energy Efficiency, Environmental and Electric Vehicle Technology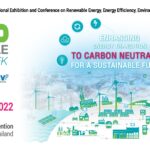 ASEAN Sustainable Week 2022 (ASEW) is the most comprehensive energy event in the region. The event has over three decades of service in presenting unbeatable regional business platforms and meeting points for manufacturers to showcase their cutting-edge energy technology for trade visitors, entrepreneurs and policy-makers and professionals in the energy and environmental industry in the region.
The Show is a combination of 4 major shows: Renewable Energy Asia, Energy Efficiency Expo, Entech Pollutec Asia, & Electric Vehicle Asia. It will be held from 14-16 September 2022 at QSNCC, in the center of Bangkok, Thailand with easy access by public transport. The brand-new venue is a state-of-the-art facility and was built using sustainable design innovations and technologies.