4-Point Digital Rights Agenda Report Launch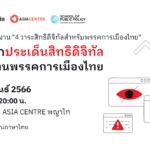 As Thailand's general election is approaching, there have been concerns whether the next government would ensure citizen participation and set a fertile ground for democracy to prosper once again after the long suspension. Such concerns stem from the fact that in the past years, the government has used laws such as the Computer Crime Act and Articles 112 and 116 of the Penal Code to prosecute journalists, human rights activists and academics for their political opinions. In the name of national security and public order, the government has consistently rejected requests for information disclosure and unlawfully monitored citizens' communications. Meanwhile, the mechanisms supposedly to combat disinformation have been misused to maintain the government's status quo. These issues shall be addressed through law amendments and the cessation of practices that obstruct the exercise of fundamental rights.
Political parties shall play a central role in pushing these issues into the agenda of the next government. In this regard, EngageMedia, Asia Centre, and the Chiang Mai University-School of Public Policy co-convene a briefing session for political parties. The session will present four key recommendations concerning digital rights which political parties should incorporate into their human rights policy for the upcoming election.
Time & Date: 24 February 2023 (6:30PM – 8:00PM)
Venue: Asia Centre Meeting Space (Phayathai Plaza, 17th Floor)
Language: Thai
Registration: Click here